Skip the lift and take the stairs
With Tessin Climber it will be more fun to make healthy choices in everyday life. Create a stairwell contest and compete with your colleagues or neighbors to get up on the mountain first.
Register staircase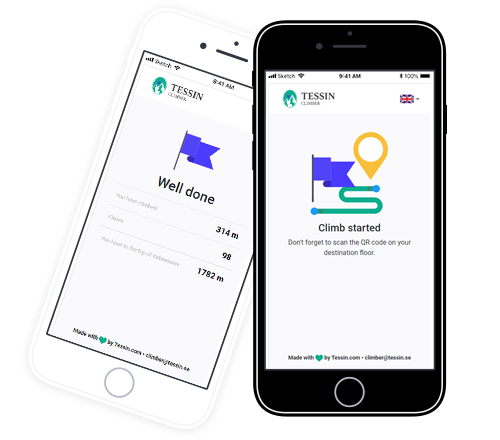 Register an account
To create a competition for your staircase you need to register an account.
Start a contest
Set up a stairwell for your competition. Here you specify which mountain is to be ascended symbolically.
Set up QR codes
Print QR codes and place on each floor of your stairwell.
Invite participants
Inform colleagues, friends or tenants about the competition. They participate by scanning the QR code on the ground floor with their mobile cameras.
Follow the race
Who is the administrator can follow the race through your account. All participants receive regular status updates via email.
Three reasons to take the stairs
Effective training
Canadian research shows that staircase climbing is twice as effective as walking briskly. You quickly get up your heart rate and feel exhausted faster.
Lower mortality
A study conducted by the Harvard Alumni Study states that people who walk at least 8 flights of stairs a day have a 33 percent lower mortality rate.
Stronger heart
According to British studies, there is a link between taking the stairs regularly and reducing the risk of heart disease.